KJS Events Inc
KJS Events is a full service meetings and event planning company with over fifteen years experience in the hospitality, meetings and events business.
We love our fellow planners and industry colleagues! We will work with you to ensure your client has the perfect giveaway for their event.
Because events is our business, we know exactly where you are coming from. Simply put... We know what you want. We know what your client wants. And we have the tools to source those items for you.
It's not about giving something because "you need to", rather, to us, it is expanding your message and showing your appreciation. It is about giving something that is useful, meaningful and unique.
Let us help you find just the right item for next meeting, event, client giveaway or tradeshow.

Featured Item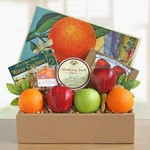 Fruit And Cheese Gift Box
Everyone should have the chance to enjoy the extraordinary tastes and flavors of California! Give the gift of the Golden State with this gift box that holds farm fresh fruits and delicous sweet and sa...
$39.99