Connexion Apparel and Promotional Items
Welcome to our Promotional Items shop!
Please contact us if we can help you in any way. You can reach us at 419.436.7101 or via email at customerservice@connexionsink.com.
Thanks for spending some of your valuable time with us today!
Enjoy and have a GREAT day!
Joe Johnson, Managing Director
Featured Item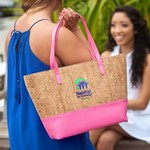 Cork Charlotte Purse
Introducing the Viv&Lou Cork and Black Vegan Leather Tote bag with self handles, interior lining, interior zipper pocket, 2 open pockets and a zipper closure. 18.5" W x 11" H x 5" D
$39.29 - $48.95