AdWear
Welome to AdWear's product and idea search area! There is almost a limitless amount of ways to promote your team, honor your employees and to show off your company, school or organizations brand.
Click on a button on the left if you want to limit your search to a specific item or catagory.
Featured Item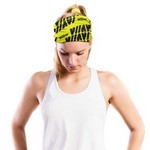 FlexFiber™ Multi-Function Head Scarf (...
The FlexFiber™ Mulit-Function Head Scarf is a versatile and reusable athletic scarf designed for running, cycling, and any other outdoor activity. Using FlexFiber™ seamless technology, the light weigh...
$4.69 - $5.64