Welcome!
Welcome to Express Graphics - Printing & Promotional Products and thank you for visiting our site. We specialize in finding the right products and solutions for you and your company. Click on the links below to search and browse through just some of our catalogs. Please don't hesitate to give us a call at 513-728-3344, or email us. If you have any questions, please feel free to
Featured Item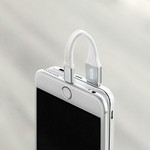 MFi Apple Certified Lightning Charge &am...
MFi Apple certified Lightning charge & data sync cable with carabiner. Attach it to your key ring and never be left without your charging cable again. Complies with ISO 9001, MFi. 4 1/2" L
$13.90 - $16.50
What Our Customers Are Saying

Express Graphics has been a vital partner to our district for printing needs. Their sales and graphics team go beyond just printing -- they strive to understand our brand and how we want to market our...