Welcome!

Welcome to the Promotional Products catalog for Maple Avenue


With more than 100,000 products, we will be able to provide you with the perfect promotional materials that your customer will enjoy for a long time. This ensures that your name will be in their hands and minds the next time they need you.
Featured Item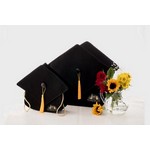 The Grad Bag Deluxe - 13"x 15"
Luxury Felt Graduation Bag. The Grad bag deluxe is a magnificent bag option for a school function event, college party celebration and educational fundraiser projects! It is the real bag with the real...