Featured Item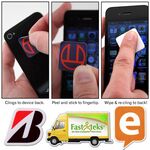 Wipe-it Now Screen Cleaner - Custom Shap...
Wipe-It Now screen cleaner...always available for a quick wipe! Safely and completely cleans and polishes the view screens of cell phones, MP3 and DVD players, GPS and other electronics. Adhesive, mic...
$1.08 - $3.18
Welcome!

Welcome to our new site! We are excited to offer our customers an easy way to search and shop all of the products and services we offer. Our goal is to help our customers find the products and services, while at the same time exposing you to cutting edge products. We hope you find our new site a useful tool in your search for the products and services to fit your needs. If you have any questions, please feel free to contact us. Thank you and enjoy!