How Can We Show You Off Today?
Visi Printing and Signs is the place for all your Promotional Product Needs!
Visi Printing and Signs provides high quality, reliable commercial printing, finishing services, large format and promotional items. However, we're much more than that! We like to think of ourselves as solution providers - building a better line of communication between designer, printer and client.
And with 30 plus years of experience we can also offer you major resources for marketing and branding.
Here you can browse through our entire line of promotional products, just pick a category to the left, and start your search! Or, if you know what you are looking for type it into the quick search at the top of the page on the left.
We would like you to think of Visi Printing and Signs as an extension of your Marketing and Operations Department.
What's your need? Let's solve it together!
Featured Item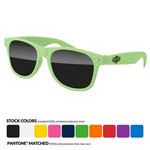 Wheat Retro Sunglasses w/1 Color Temple ...
Wheat Retro Sunglasses with 1-color arm imprint. Our best-selling frames feature a square shape & recognizable cat eyes. These iconic shades are ideal for white label, giftshops, merch, giveaways, tra...
$1.88 - $2.65