Featured Item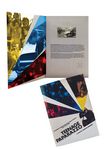 Video in Print Media Player for Custom P...
The perfect fusion of video, print, and sound. Incorporate high quality video content into any print collateral. Multiple screen sizes available. Up to 15 minutes of video content. Rechargeable batter...

Thanks for checking us out.
Your Life Customized!
Feel free to browse around, please feel free to email or call if you would like us to help you search for or develop your marketing campaign.