Welcome!

Welcome to the CorporateWear USA Search Page.

Safety Awards, Corporate Gifts, Promotional Givaways.

Putting your company name in your clients' hand is an effective marketing tool. There are nearly limitless options of promotional products from which you can choose ranging from standard cups, golf balls and pens to the thought-provoking and unusual.

At CorporateWear USA™ we provide the expertise in determining the right products to make the right impression.


If you have any questions, please feel free to contact us at (281) 485-3185 or sales@corporatewearusa.com. Thank you and enjoy!
Featured Item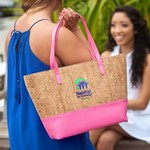 Cork Charlotte Purse
Introducing the Viv&Lou Cork and Black Vegan Leather Tote bag with self handles, interior lining, interior zipper pocket, 2 open pockets and a zipper closure. 18.5" W x 11" H x 5" D
$39.29 - $48.95