Welcome!
Welcome to our searchable promotional products website. Click on the search button at left to begin. For more information on products you are interested in, please "add to cart". This will not place an order, but will save the item you have selected to a message for us to respond to.
If you have any difficulties using this site, please call 1-800-262-5414, extension 190.
Featured Item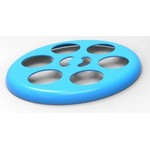 6 Cup Flying Disc Traybee Cup Holder
Cup Holder Frisbee has been designed for FUN & as well as to carry your cups. It can be used as a cup holder & can carry 6 cups or 4 cups. Our 14 1/6", 6 cups Frisbee is heavier than usual Frisbee Dis...

Signature Showrooms