Featured Item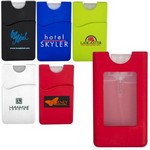 Silicone Wallet Sleeve w/Sanitizer - 0.6...
PP Plastic credit card-sized 0.67 oz. (20 Ml) antibacterial hand sanitizer spray in removable silicone sleeve with pocket for credit cards, transit cards and business cards. Features light citrus scen...
$2.35 - $2.99
Welcome!
Welcome to Bravo!'s search engine for promotional products. This tool enables you to search a vast database of products, based on keywords, budget ranges, or specific product request. Once you have selected an item, or items, of interest, please complete the inquiry form and we'll contact you immediately to discuss pricing and next steps.

Or if you just not sure what you're looking for, let us know and we'll do the search for you.
Signature Showrooms