Minuteman Press of the Lehigh Valley
Welcome to our Promotional Products search page! By using either the Product Search banner above the image area on this screen or the catagory search buttons at the left side of the screen, you will be able to seach through the available products to find the one that fits your needs. If you have any questions or when you are ready to place an order, contact us and we will get your order into production. Thank you and enjoy!
Featured Item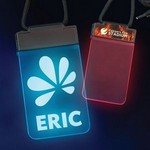 Deluxe Lighted Badge™ - 1 Imprint Loca...
Your custom artwork laser-engraved into a glowing acrylic badge. Choose laser engraving —or— a full color top appliqué. 7 bright colors selectable by pressing on/off button or continuous cycle through...
$18.00 - $33.25