Featured Item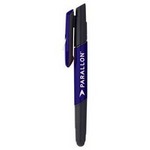 Scripto® Omni 4-in-1 Highlighter Ballpo...
Score® Omni 4-in-1 Ballpoint Stylus makes it easier to navigate your mobile devices and important documents. Specifically designed for a mobile tablet or smartphone, this lightweight model combines te...

Welcome!
JB Graphics, Inc. is here to partner with you on your design, printing, mailing and promotional needs. With over 20 years of experience, we use our knowledge and expertise to give your projects individual attention from start to finish. This attention assures a quality product, delivered on time and with a cost and time savings to you. JB Graphics, Inc. is certified as a Women's Business Enterprise.