WELCOME to PROMOSEARCH!!
This is a sample site demonstrating two SAGE products: SAGE WebExpress and SAGE PromoSearch. SAGE WebExpress is our basic website module. You get your own SAGE WebExpress website absolutely FREE with your subscription to SAGE Advantage Membership. You can easily customize your site by choosing a background, changing the button style, modifying text, adding your company logo and pictures, and much more!
SAGE PromoSearch is our complete e-commerce solution for either your WebExpress site or your own website! With SAGE PromoSearch, your customers can search our vast database of promotional products directly from your website. The "Search" and "View Cart" buttons at the top as well as the QuickSearch and category list on the left are all part of the PromoSearch module. Click on a category to see how PromoSearch works.
For more information on SAGE WebExpress and SAGE PromoSearch, please visit our corporate site at
www.sageworld.com
.
Featured Item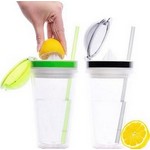 16oz. Cup With Fruit Squeezer Lid
16oz. Double-wall. AS Plastic Mug with Flip Lid. Special Fruit Squeezer Top. PP Material Straw. 7 7/8" H x 3 14" Diameter
$6.65 - $6.85