Acme Printing
Welcome to the Acme Printing Promotional Items section!! Thank you for stopping by! We offer the best selection of promotional marketing items to help promote your business.
Have questions or need help?? No problem! Your Acme Printing Promotional Team is here to help! Contact us at 423-581-8528 or info@acmeprintinginc.com. We look forward to working with you!!
Featured Item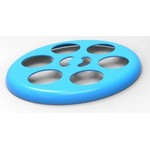 Flying Disc Tray Cup Holder- Coffee Hold...
Cup Holder Frisbee has been designed for FUN & as well as to carry your cups. It can be used as a cup holder & can carry 6 cups or 4 cups. Our 14 1/6", 6 cups Frisbee is heavier than usual Frisbee Dis...