Acme Printing
Welcome to the Acme Printing Promotional Items section!! Thank you for stopping by! We offer the best selection of promotional marketing items to help promote your business.
Have questions or need help?? No problem! Your Acme Printing Promotional Team is here to help! Contact us at 423-581-8528 or info@acmeprintinginc.com. We look forward to working with you!!
Featured Item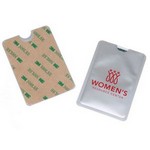 RFID Pocket Protector
In today's technological age, you can never be too careful when it comes to fraud protection. Protect yourself with this RFID pocket protector. Many credit cards, ID's and even passports have RFID chi...