NOTE : LISTED PRICING IS FOR COMPARISON SHOPPING ONLY. IN MANY CASES WE CAN OFFER YOU BETTER PRICING. PLEASE CALL US AT 513-821-2299!!
Let's find some cool stuff!!
Looking for something unique and useful to market your company or organization? If you can't find it here it doesn't exist! Have fun exploring all the different ways you can market your brand right on this site. You can either use the bar on the left to shop for merchandise by category, or type a description in the search bar at the top for a more specific search. If you have any trouble finding what you're looking for, placing an order, or if you have any questions please feel free to contact us. Happy Hunting!!
Featured Item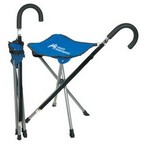 Folding Cane Stool
Folding Cane Chair - Walking Stick with Stool and Carry Strap, 600D Polyester Fabric and 19mm Aluminum Tube. 12" W x 12" D x 35" H
$15.00 - $18.00
Signature Showrooms