Allegro Business Products
Promotional Products Work!
85% of people given a promotional product remember the advertiser.
Promotional products engage all five senses. Customers can see, hear, touch, taste and even smell them.
Average promotional product is kept 6-14 months.
We help our clients gain and retain customers with promotional products & screen printed or embroidered apparel.
It's a daunting task to order Promotional Products for your company or group. Allegro makes it easy. For personal service email or call us. We are experts in matching your company/group with the right product and price. We are committed to your success.
Featured Item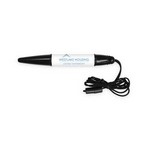 Neodymepen Magnetic Pen
Neodyme Pens use powerful neodymium magnetics. The pen tip automatically extends when the pen is removed from the safe breakaway lanyard, and automatically retracts when returned - no cap to worry abo...
$3.35 - $3.56
Featured Blogs
A recent national study gauged the effectiveness of promotional products versus other advertising media. The study surveyed end buyers to identify how promotional p...
What Our Customers Are Saying

Our product has arrived and looks great! Thank you so much. Ever since the first batch came in incorrect, you have been on it and doing everything possible to make it right. Your customer service is u...