Allied Superstars Inc
Attracting potential customers can be challenging, especially when traditional marketing methods are not enough. Promotional logo products offer an alternative, strengthening the corporate brand and keeping your name in front of the customer, long after the marketing program is completed and are one of the most proven and effective means of marketing and advertising for your company.
We are distributors for a number of companies both domestically and abroad so we can put a logo on just about any product. We distribute for Norwood, Nissin caps, and Advalite just to name a few.
We can also create a custom Web-based company store containing your own branded merchandise located on your own company web site. Contact us for more details.
Featured Item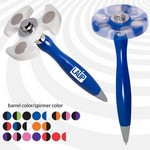 Spinner Pen
Retractable ABS plastic pen with toy fidget spinner topper. Patent pending. 5.75" L x 2" W x 2" H
$2.49 - $2.99