Badger Graphic Systems

Make a Great Impression
Promoting your business has never been easier. Advertising products help promote your company's brand, enhance your reputation and increase customer loyalty. We create marketing opportunities for your business. Our professional marketing team will guide your through the vast array of choices for promoting your organization. We can create a custom program to fit your needs and budget for your business.
Promotional products are powerful weapons in your marketing arsenal
Featured Item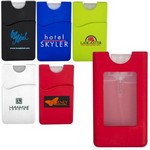 Silicone Wallet Sleeve w/Sanitizer - 0.6...
PP Plastic credit card-sized 0.67 oz. (20 Ml) antibacterial hand sanitizer spray in removable silicone sleeve with pocket for credit cards, transit cards and business cards. Features light citrus scen...
$2.35 - $2.99
Signature Showrooms