Shop Online with The Barr Group!
Welcome to The Barr Group's Online Shop. Feel free to browse our extensive collection of promotional products. Whether you're wanting something specific or just an idea for your next event, we've got you covered!
Choose a category to the left or type in a keyword into the Quicksearch above. We've got practically everything you could imagine. Of course, if you can't seem to find what you're looking for, just reach out to us either by phone or email and we'll help you out!
When you find a product you want, just click the "Request Quote" on the product page. We'll send an email back to you with all the details you need. It's that easy!
Featured Item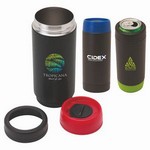 Frosty 18oz. Double Wall Steel Tumbler/C...
The Frosty is a double function, double wall 18oz stainless steel tumbler and can cooler. The tumbler lid features a spill-proof sliding closure and is ideal for hot or cold drinks. Swap the black can...