Welcome!
Looking for promotional products, items with your logo / brand?
You've come to the right site.

Whether you are looking for a specific item or just browsing for ideas, our site is your one-stop shopping source. From traditional items to the latest, from common items to ideas for uncommon items, you can easily shop for some of the best items on the market.

Quickly and easily find products to:

* Introduce your firm
* Improve your sales
* Motivate staff
* Thank your client
* Increase your visibility

When you are ready to order, our secure check out makes it safe, easy and convenient. Or, if you are just browsing, use the 'information only' option and we'll get back to you.
Featured Item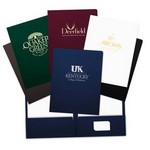 Standard 2-Pocket Round Corner Foil-Stam...
The most popular presentation 2- Pocket folder style available, Foil-Stamped from customer supplied artwork. 9" x 12", 2 Pocket Folder with Business Slits on the right pocket. Choose from a variety of...
$0.77 - $1.99
Signature Showrooms