Welcome!
We've taken over 800,000 product ideas and placed them in one, easy-to-use global promotional product search.
If you don't find what you are looking for or have a special theme or request, simply let us know. Our experienced professionals love to source new ideas and offer sound advice based on your individual needs.
Featured Item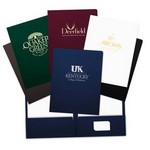 Standard 2-Pocket Round Corner Foil-Stam...
The most popular presentation 2- Pocket folder style available, Foil-Stamped from customer supplied artwork. 9" x 12", 2 Pocket Folder with Business Slits on the right pocket. Choose from a variety of...
$0.77 - $1.99