Cogar Printing
Are you looking for a company that can help you with your communications project? Do you find that you have a great idea for a printed piece but you don't quite have the skills or expertise to put it on paper?
Cogar Print and Graphic Solutions can assist you in all aspects of marketing, graphics and print media. We can help you with everything from project planning to the final product that will promote your business and assist you in your success.
For more than twenty-five years, our mission is to create and produce a product that is of the highest quality of standards and provide exemplary service through partnerships with our clients. This is and always will be our primary focus based on our small business values in which we were founded.
Feel free to contact one of our sales associates or customer service representatives with any questions you may have.
Featured Item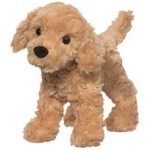 Thatcher Golden Retriever
Add your logo with a printed accessory! They will be wagging their tails with excitement when they receive Thatcher the Golden Retriever! This plush dog is perfectly breed-specific thanks to the softe...
$9.90