Colorworks Graphic Services
Promotional product advertising is an excellent way to keep your brand in front of customers and prospects long after the promotion is over. In fact, promotional product advertising should almost always be considered when devising a marketing strategy. Studies have shown that promotional products increase positive feelings toward the advertiser by over 50 percent. Additional benefits include increased customer loyalty, repeat purchases, and word-of-mouth recommendations. We can help you choose the product that conveys the appropriate message for your next campaign. We can also help you with kitting and distribution so the items get where they're needed ...when they're needed. Worried about the hassles normally associated with supplying logos and graphics to promotional products vendors? Don't be. That's just one of the reasons you're dealing with Colorworks!
Featured Item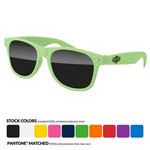 Wheat Retro Sunglasses w/1 Color Temple ...
Wheat Retro Sunglasses with 1-color arm imprint. Our best-selling frames feature a square shape & recognizable cat eyes. These iconic shades are ideal for white label, giftshops, merch, giveaways, tra...
$1.89 - $2.65