Welcome!
To the Commercial Forms Advertising Specialty/Promotional Item Search Website! We have 1000's of ways to help you promote your business! Using the "Search" functions within this website you will be able to locate many unique items for the Advertising and Promotion of your Business. Search through our database of 100,000's of items. After locating an item you wish to receive samples of or additional information just add it to your cart and send it to us. We will then contact you to review specifications and pricing. Feel free to contact us at 800-233-0771 or email terri@commercialforms.com
Thank you and enjoy!
Terri
Featured Item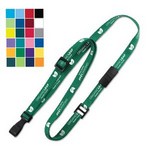 5/8" Adjustable Custom Silkscreen L...
These versatile custom lanyards fit everyone from children to adults! Adjust from 24" to 44" in length. Choose from over a dozen end attachments. Lanyards are made from comfortable ribbed polyester. S...
$0.87 - $2.10