Welcome to our online gallery.
Here is a sampling of some of our merchandise that can be customized with your name or logo. If you don't see what you are looking for, we are happy to find it - just give us a call or send an email.
We look forward to helping you get what you want.
805.927.1900
Featured Item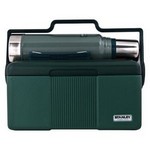 Stanley Heritage Lunchbox Cooler & B...
Our combo deal pairs our classic thermos with our Adventure Heritage Cooler for those who take lunch seriously. The cooler handle locks the 1.1QT Stanley Classic Vacuum Bottle in place, while the inte...