Welcome to our online gallery.
Here is a sampling of some of our merchandise that can be customized with your name or logo. If you don't see what you are looking for, we are happy to find it - just give us a call or send an email.
We look forward to helping you get what you want.
805.927.1900
Featured Item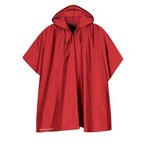 Aerolite Poncho
Features: STORMTECH Showerproof D/W/R Outer Shell; Packable Into Self-Fabric Pouch; Lightweight Quiet Fabric; Snap Down Sides; Large Adjustable Drawcord Hood; Waterproof: 600mm; Breathability: 1,000g/...