Welcome to our online gallery.
Here is a sampling of some of our merchandise that can be customized with your name or logo. If you don't see what you are looking for, we are happy to find it - just give us a call or send an email.
We look forward to helping you get what you want.
805.927.1900
Featured Item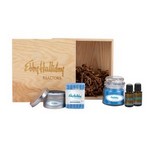 Ultimate Spa Set
Comes in beautiful 8" X 8" X 3.5" wooden box (ZGSWB77), and includes: 4oz. Aromatherapy Candle in Apothecary Jar (NCAJ4), 1 Essential Oil Infused Bath Salts in Clear Square Jar (NBSSQJ4), one 4oz. Squ...