Welcome to our online gallery.
Here is a sampling of some of our merchandise that can be customized with your name or logo. If you don't see what you are looking for, we are happy to find it - just give us a call or send an email.
We look forward to helping you get what you want.
805.927.1900
Featured Item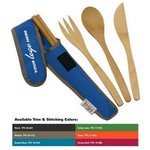 To-Go Ware RePEaT Utensil Set - Classic
Show your commitment to a reusable lifestyle with custom To-Go Ware RePEaT Bamboo utensil sets. Custom To-Go Ware Bamboo utensil sets are perfect for those with on-the-go lifestyles and include a fork...