Cromers
About Us
Thank you so much for wanting to learn more about Cromer's! We take sincere pride in offering the finest in gourmet flavored popcorn, popcorn tins, peanuts, and gift boxes. We also are a proud carrier of Gold Medal Concession Equipment and Supplies. Our company was built by offering fresh, premium products and outstanding customer care. We continue this tradition after more than 75 years in business!
For more information or to place an order, shop through the rest of our website or call us at 1.800.322.7688.
In 1935, Cromer's was founded by midlands South Carolina farmer Julian D. Cromer. Shortly thereafter, Cromer's took on near legendary status when he added fresh roasted peanuts to his produce stand at the Farmers Market in depression-era Columbia. Although Cromer insisted on roasting a new batch every morning, a competitor would yell out to his customers, "Don't buy those mine are the best! Cromer's are no good." Cleverly Cromer agreed and posted his own slogan, "Guaranteed Worst in Town." Curious people soon flocked to his stand to try "the worst."
Featured Item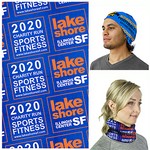 "The Fandana™" Sublimated Mu...
The Fandana™ is a 100% polyester microfiber all purpose unisex accessory. It has a tubular design which can be used as a bandana, headband, beanie, skullcap, scrunchie, neck warmer, armband, wristband...