Branding is Crucial to the Success of any Tangible Business!
In today's consumer markets, branded and co-branded products are crucial and effect the consumer's perceptions of the value and character represented by that branded product.
Our Senior account executives are trained in all areas to recomend the most current and effecitive products.for your project. This involves new prouduct knoledge, researching, developing, and co-branding opportunities that can inhance customer awareness as well as keep your message in front of client.

Featured Item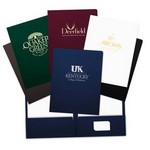 Standard 2-Pocket Round Corner Foil-Stam...
The most popular presentation 2- Pocket folder style available, Foil-Stamped from customer supplied artwork. 9" x 12", 2 Pocket Folder with Business Slits on the right pocket. Choose from a variety of...
$0.88 - $2.27
Employee Incentives