Welcome!


By using this feature, you have instant access to over 500,000 Promotional Products. Simply click on the SEARCH button to begin. Don't forget to use the "Key Words" feature to narrow your search.

You can use the shopping cart to either place an order or to receive information about any product.
Featured Item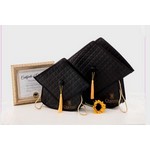 The Quilted Grad Bag - 17"x19"
Luxury Quilted Graduation Bag. The Grad Bag is a magnificent bag option for a school function event,college party celebration and educational fundraiser projects! It is the real bag with the real genu...

Signature Showrooms