PRINT (/print/) n: The act, art or practice of making an impression.
At Evergreen Print Solutions, we have a true passion for what we do. For over 30 years, our team's commitment to quality printing and uncompromised service has never faded.

As the world of printing continues to evolve, the high degree of knowledge and expertise found at Evergreen Print Solutions is necessary to effectively serve the needs of every customer, every day. No project is too big or too small.

Here is what we can do for you today:

• Concept & Design
• Business Forms
• Full Color Printing
• Promotional Products
• Fulfillment, Kitting & Assembly
• Inventory Management
• Warehousing & Distribution
Featured Item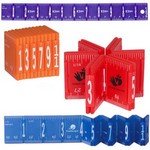 Fold 'Em Up Ruler
Unique folding ruler with a hole for hanging up. Easily folds up into a compact 1 1/2" square. Custom colors available upon request. Imprinting on all squares available. Great desk accessory and trade...

Signature Showrooms