Featured Item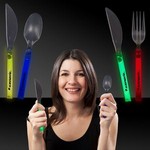 Glowing Cutlery
Light up nighttime picnics and dinner parties with our glowing cutlery! Brighten up evening events with our glowing forks, knives and spoons! Each pack comes with 4 of each in red, green, blue and yel...
C$0.93 - C$1.11
Festival Promotions
Looking for a specific item or just browsing for ideas? Festival Promotions is your one-stop shop for promotional products and business gifts. Our extensive range of promo products will ensure you find something to suit your requirements.

With 1000s of selections, Festival Promotions offers branded merchandise to fulfill all of your needs. If you have a wild idea, you'll find it here.
As always if you need to help you can always call us, and we'll be happy to help. During business hours you'll never get a machine, and you'll always be able to speak to one of our creative (and a bit kooky) promotional consultants. So, let's start searching and making business fun again!
Signature Showrooms