Featured Item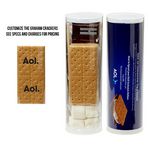 Small Campfire S'mores Kit Tube - 48 Hou...
This small campfire S'mores Kit includes 4 graham cracker sheets, 4 marshmallows, 2 Hershey's milk chocolate bars and 2 toasting sticks, which makes 4 servings. Cooking directions are printed on the b...
$13.01 - $14.39
Welcome!
Within just a few minutes, you can browse for any promotional item that fit your needs.
If you have any questions, please email us at mjohnson@fwpromo.com or cs@fwpromo.com
Thank you and enjoy!