Featured Item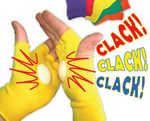 Spirit Clakker Gloves
These one-size fits all, knit fingerless gloves with hard plastic disk on the palm of each hand, and they make a distinctive clacking noise when clapped together. With a one color imprint on the back ...

Welcome!
Within just a few minutes, you can browse for any promotional item that fit your needs.
If you have any questions, please email us at mjohnson@fwpromo.com or cs@fwpromo.com
Thank you and enjoy!