Featured Item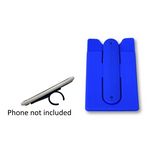 Kickstand Smartphone Wallet (Super Saver...
Great promotional product which easily attaches to a smartphone. It will turn it into wallet/phone kickstand for secure storage of debit, credit cards, license and dollar bills. It is made with sturdy...
$0.99 - $1.72
Welcome!
Within just a few minutes, you can browse for any promotional item that fit your needs.
If you have any questions, please email us at mjohnson@fwpromo.com or cs@fwpromo.com
Thank you and enjoy!
Signature Showrooms