Welcome!

Welcome to Gameday Souvenirs Inc., your number one source for branded custom products. We are dedicated to partnering with you to create the perfect branded custom products to achieve your objective. We focus on dependability, customer service and uniqueness, at an affordable price.

Featured Item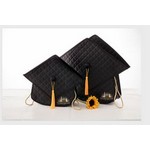 The Quilted Grad Bag - 13"x15"
Luxury Quilted Graduation Bag. The Grad Bag is a magnificent bag option for a school function event,college party celebration and educational fundraiser projects! It is the real bag with the real genu...

Signature Showrooms