Featured Item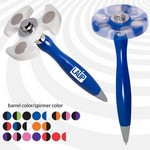 Spinner Pen
Retractable ABS plastic pen with toy fidget spinner topper. Patent pending. 5.75" L x 2" W x 2" H
$2.49 - $2.99
Welcome!
---
If you've used promotional products before, you know their power. If you're new to promotional products, you are right to make them part of your marketing strategy. Research has shown time and again that promotional products work.
Your company's brand is one of your most important assets. To be effective, the promotional products you chose must showcase and compliment all the things that make your brand unique in the marketplace. From pens to t-shirts our creative specialists will work with you to find, or create just the right product to support your vision.
Promotional Products and Product Search
Begin your search right now or please contact GF Advertising
So, what are you waiting for?
Give promotional products from GF a try!
Themes