Welcome!
People Choose your Brand
Here you will find thousands of products to promote your brand, idea, theme or event. If you start to feel a bit overwhelmed we are here to assist. You can call us @ (801)908-5864 or email us service@giftspeoplechoose.com your idea, project, goal and needs and we will return products that meet all of your criteria.
Please select a category to start
Featured Item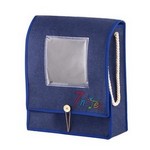 The Splendiferous Bag
The Splendiferous is an exclusive luxury felt display bag with a quality front pvc window that can be used for beautiful packaging or upscale gifting. Brand it with your company logo for a unique holi...