Welcome!
People Choose your Brand
Here you will find thousands of products to promote your brand, idea, theme or event. If you start to feel a bit overwhelmed we are here to assist. You can call us @ (801)908-5864 or email us service@giftspeoplechoose.com your idea, project, goal and needs and we will return products that meet all of your criteria.
Please select a category to start
Featured Item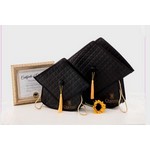 The Quilted Grad Bag - 17"x19"
Luxury Quilted Graduation Bag. The Grad Bag is a magnificent bag option for a school function event,college party celebration and educational fundraiser projects! It is the real bag with the real genu...