Featured Item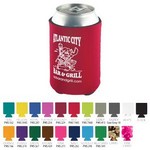 Beverage Insulator Cooler Pocket Can Coo...
Pocket Can Coolie is a collapsible can holder, made with 5mm thick foam laminated with cloth on the inside and out. We will print on both sides plus the bottom. Each side can have it's own unique impr...
$0.47 - $0.65
Welcome!
Promotional solutions for today! At IPAC Promotions experience expert customer service, factory direct pricing and local representation. With a wide array of products, your idea will take shape when you select the perfect product to showcase your logo and company. We are committed to your success. We are also proud of our hard-earned reputation for handling complicated jobs on time. Our design team works 24/7 to meet your needs. Artwork prep is handled in-house to avoid costly printing mistake. Count on us to handle your order in the most expedient manner and make your promotion an unforgettable experience. The most important thing we offer does not come with a price tag. Customer Service - you can't buy it, and that is what makes us different. We are a local company going the extra mile to build lasting relationships with our customers - one account at a time. If we can be of any assistance, please allow us the opportunity to serve you.
Warmest Aloha!
Packaging For A Greener Tomorrow!
Signature Showrooms