Welcome!
Jag is a full-service supplier of printing, business forms, logo'd apparel, and promotional products. We invite you to search our online catalog of accessories & promotional items here. If you don't see what you want, feel free to contact us for more information.



When you're ready to order, give us a call: 503.656.6066 or toll-free, 800.743.0466
Featured Item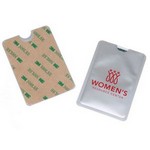 RFID Pocket Protector
In today's technological age, you can never be too careful when it comes to fraud protection. Protect yourself with this RFID pocket protector. Many credit cards, ID's and even passports have RFID chi...