OVERVIEW
Globally, the Promotional Products segment of the Advertising Products Industry is comprised of a few thousands manufacturers selling end-user products through a highly diverse network of distributor companies. McGRAPHIX Advertising Products is a three-decade member of this network, providing clients access to and professional management of this vast fashion oriented product segment.
Within the industry, there are a few dozen large manufacturers supplying a sizable percentage of the industry product. A few of these companies are familiar to marketing professionals, many are not.
To optimize client investment results, McGRAPHIX Advertising Products aligns itself with a select percentage of the industry. The firms we represent are leaders in both product INNOVATION and service PERFORMANCE. This brings CERTAINTY to client investment initiatives utilizing the industry for enhanced PROGRAM EXPOSURE and PARTICIPATION RESULTS.
BRAND-ON-BRAND
Along with offering extensive product options within the most popular product categories, our line-up caters to the expanding universe of PREMIUM RETAIL BRANDS.
Recognized retail names offer BRAND-on-BRAND product marketing opportunities. This affiliation adds value perception depth to the program brand and a longer message life, resulting from a quality product investment. These retail names include Bouton, Brookstone, Camelbak, Citizen, Cross, Cutter & Buck, High Sierra, Nalgene, Nike, Pentel, Scripto, Waterford, Wenger and many more.
Thousands of categorized industry products are available through this section of our website, including

inexpensive high volume products, offering low cost

short-term

saturation opportunities.
For professional management and assistance with your next program advertising initiative, let us provide a SUPERIOR OVERALL SOLUTION. Our incentives include VOLUME DISCOUNTS, PROFESSIONAL MANAGEMENT and GLOBAL DELIVERY CAPABILITY.
Featured Item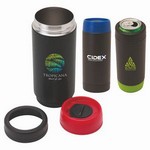 Frosty 18oz. Double Wall Steel Tumbler/C...
The Frosty is a double function, double wall 18oz stainless steel tumbler and can cooler. The tumbler lid features a spill-proof sliding closure and is ideal for hot or cold drinks. Swap the black can...
$12.99 - $14.49