PROMOTIONAL PRODUCTS are the PRODUCT FACE of PERSONAL MOBILE ADVERTISING. When a person receives these branded items, the identity message engages not only the recipient but everyone in their personal space. The connection of the person and the brand is established, adding an AMBASSADOR to the ranks of the branding organization by way of the advertising product. This is advertising without comparison, extending a brand into the recipients closest and personal communities.
In the advertising product industry, there are a few hundred large manufacturing and decorating companies supplying the vast majority of advertising products subsequently marketed by thousands of distributors via websites and printed catalog. A few of the players on both sides are familiar to marketing professionals. However, many are not.
For over three decades, McGRAPHIX has aligned itself with the largest and most innovative AD Product Manufacturers in the industry, bringing CERTAINTY to this fashion driven business sector. Our line-up covers the expanding universe of Premium Retail Brands, adding to our BRAND-on-BRAND product marketing opportunities for organizations. It also encompasses the inexpensive high volume product arena, offering advertisers short-term high volume low cost saturation opportunities. In some cases, these McGRAPHIX relationships go back to the earliest years of the Ad Products Industry.
We bring to our client relationships a managed network of experienced and responsible production companies to deliver innovative campaign solutions.
It is what McGRAPHIX delivers
CUTTING EDGE
Our POP section provides a portal to our national network of (200) branded merchandise suppliers delivering (25) popular product categories for our client advertising campaign initiatives.
- 100,000 LEADING Contemporary Ad Products
- INNOVATIVE Product Designers, Manufacturers & Decorators
- PREMIUM Retail Branded Products to Add Message Value
- LOWER-PRICE Saturationn Products
- NEW Product Releases
- DISCOUNTED Pricing Programs
- POPULAR Categories with a Myriad of Price Points Options
If your role involves organizational marketing or acquisition of branded merchandise and you wish to work with an EXPERIENCED PARTNER, CONTACT McGRAPHIX TODAY.
Featured Item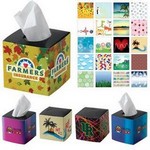 Mini Cube Tissue Box
These mini tissue boxes are irresistibly cute, and include 30 petite virgin pulp tissues. Decorated on all four sides in full-color, you can select from any of the stock design backgrounds or design y...
$1.59 - $1.75