Corporate Outfitters
Brand Junkie is an award-winning supplier of promotional products and marketing solutions. We operate factory facilities in Houston, Texas and New Orleans, Louisiana, that provide personalized product lines to dozens of international brands with household names. Our unmatched ability to create unique products and sustain fulfillment programs and e-stores for those brands, has secured us as a stalwart leader in the promotions business.
We maintain the honor of working with world class companies because we design and create our own products, in our own factories, using highly skilled craftsmen that genuinely strive for a standard of excellence that is unequaled in the industry. Unlike the majority of promotional suppliers, we are a full-service promotional factory, not just a middleman. We design it, we personalize it... and we proudly stand behind every single product. At Brand Junkie, we don't chase the standard... we set the bar.
Featured Item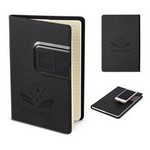 Refillable Journal w/Wireless Charging P...
Journal features 80 lined sheets of white paper. Inner paper notebook can be replaced by those found in your local office supply store approx. size: 5"W x 8"H. Wireless chargers operate at lower tempe...
$13.99 - $15.59