Porath Print Source
How will customers remember you? Promotional products or Advertising Specialties are a sure fire way to make a statement and be remembered. In fact, 86% of consumers could recall the advertiser on a promotional product they had received in the past 24 months!
The options are virtually unlimited! If you don't see something that you are interested in, just let us know. We are here for you.
If you have any questions, please feel free to contact us. Thank you and enjoy!
Featured Item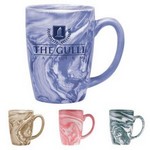 16 Oz. Palermo Collection Mug
This mug features an elegantly marbleized design & a comfortable, easy grip handle. Please note that due to the individual craftsmanship of these mugs, variances do occur in the color portions of the ...

Signature Showrooms