Welcome!

Welcome to Pro Image Promos!
Our extensive selection of promotional products are at your fingertips! You can get started by using the search bar or finding the category of interest. We are always here to help at Pro Image Partners, and you can contact us with any questions or concerns using the contact information below.
Featured Item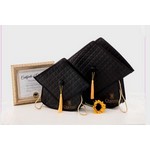 The Quilted Grad Bag - 17"x19"
Luxury Quilted Graduation Bag. The Grad Bag is a magnificent bag option for a school function event,college party celebration and educational fundraiser projects! It is the real bag with the real genu...