Quality Promotional Products
We offer a wide variety of advertising specialties to help promote your company. We can help you find creative and cost effective ways to market your brand in a way that people will remember.
Have a question? Get in touch with us!
Featured Item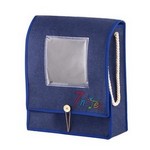 The Splendiferous Bag
The Splendiferous is an exclusive luxury felt display bag with a quality front pvc window that can be used for beautiful packaging or upscale gifting. Brand it with your company logo for a unique holi...

Signature Showrooms