Pro Motion Notions
WE ARE PROMOTIONAL PRODUCT EXPERTS WITH CLOSE TO 30 YEARS COMMITTED TO YOUR SUCCESS!
Positive People - Powerful Products - Proven Results
Quickly and easily search our vast database of products for items to:
Improve traffic at trade shows
Motivate staff and create award program
Thank a customer or referral source
Increase visibility of your brand
Fresh Ideas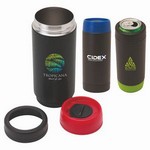 Frosty 18oz. Double Wall Steel Tumbler/C...
The Frosty is a double function, double wall 18oz stainless steel tumbler and can cooler. The tumbler lid features a spill-proof sliding closure and is ideal for hot or cold drinks. Swap the black can...
$12.34 - $13.77