Welcome! Thanks for stopping by
We Have Your Promotional Item Needs Covered!
Next time you're looking to have your brand printed on virtually anything, whether it's for 500 or 5 million pieces, we can get you...
"The Products You Want, at the Prices You Need, with the Service You Expect!TM"
We started sourcing promotional products for many of our exhibitors and event marketing clients whom we discovered were previously overpaying for their branded items and not receiving deserving discounts for higher volume purchases.
Other promotional product suppliers try to make their jobs easier by getting you to do their work. You've probably been a victim of this if you've ever been sent a wasteful printed catalogue, or been asked to browse through a never-ending website.
We want you to shop the way YOU want to show. Browse through our website if that is what works for you, but if you want to talk to a real person who will provide you with the "personal shopper experience" we are here for you. It all starts with an assessment of your needs, target recipients and budget parameters. This allows us to "shop for you", and recommend relevant and timely ideas. There are never any hidden costs, and we always look to minimize setup, sample and shipping costs whenever possible.
Most of all, we maintain the motto, "Friends don't let friends pay rate card prices!" and have proudly saved our clients a ton of dough, while providing them with top-quality promotional products with top-notch service. You'll wish you discovered us sooner!
Featured Item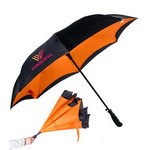 The Rebel Umbrella
48" arc inverted fashion umbrella. AUTOMATIC CLOSE, pongee polyester cover, black rubber grip handle, flat ferrule. Rebel umbrella is an inverted umbrella, revolutionary designed to keep you dry when ...
C$32.66 - C$42.27
Signature Showrooms