Featured Item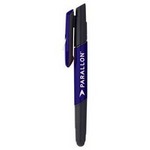 Scripto® Omni 4-in-1 Highlighter Ballpo...
Score® Omni 4-in-1 Ballpoint Stylus makes it easier to navigate your mobile devices and important documents. Specifically designed for a mobile tablet or smartphone, this lightweight model combines te...
$1.38
Welcome!
Thank you for visiting Red Wing Innovations. We help businesses transform from a commodity to a uniquely living brand. We leverage your marketing momentum to realize better results, using the same money and energy.