Featured Item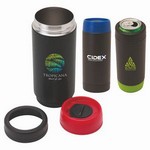 Frosty 18oz. Double Wall Steel Tumbler/C...
The Frosty is a double function, double wall 18oz stainless steel tumbler and can cooler. The tumbler lid features a spill-proof sliding closure and is ideal for hot or cold drinks. Swap the black can...
$12.99 - $14.49
Welcome!
Thank you for visiting Red Wing Innovations. We help businesses transform from a commodity to a uniquely living brand. We leverage your marketing momentum to realize better results, using the same money and energy.