Welcome to Signco / Stylecraft
Signco/Stylecraft is a premier provider of screen printing and embroidery services to corporations and institutions across the US. Our wide range of high-end products and services include: screen printing and embroidery services for corporate casual, spirit wear, hospitality and event management, general corporate identity and marketing, custom printing solutions, corporate signage, special event signage, banners, posters, show booths, OEM components, prototypes, and things our competitors say can't be done.
Please enjoy our website and call us at 513-771-9090 or send us a message if we can be of service.
Featured Item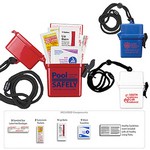 "EZ Carry Kit 2" 8 Piece Healt...
This waterproof container and Healthy Living Pack contains: 3 Standard Size Latex Free Bandages, 2 Sunscreen Packets, 1 Lip Balm, 1 Moist Cleansing Towelette(S) and 1 Healthy Guidelines Insert. It com...