Featured Item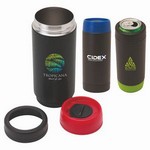 Frosty 18oz. Double Wall Steel Tumbler/C...
The Frosty is a double function, double wall 18oz stainless steel tumbler and can cooler. The tumbler lid features a spill-proof sliding closure and is ideal for hot or cold drinks. Swap the black can...
$12.99 - $14.49
GET NOTICED! STAY REMEMBERED!
Helping businesses gain and maintain mind share.
Quality Promotional Products! On Time! Every Time!
If you have any questions, please feel free to contact us. Thank you and enjoy!
Solutionist Printing Galbraith Advertising SWAG Specialties Promotional Products Trade Show Graphics Digital Offset Printing Corporate Giveaways Marketing Consulting Wearables T-Shirts Nimlok Exhibit Display Greensburg Pittsburgh Pennsylvania