Featured Item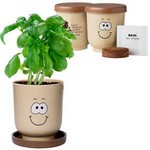 Goofy™ Grow Pot Eco Planter Set w/ Bas...
Made from reclaimed organic materials including bamboo and corn fiber, these adorable sets include a biodegradable planter with the stock Goofy™ face print on one side, a compressed soil wafer, and a ...
$2.18 - $2.48
GET NOTICED! STAY REMEMBERED!
Helping businesses gain and maintain mind share.
Quality Promotional Products! On Time! Every Time!
If you have any questions, please feel free to contact us. Thank you and enjoy!
Solutionist Printing Galbraith Advertising SWAG Specialties Promotional Products Trade Show Graphics Digital Offset Printing Corporate Giveaways Marketing Consulting Wearables T-Shirts Nimlok Exhibit Display Greensburg Pittsburgh Pennsylvania