Featured Item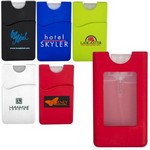 Silicone Wallet Sleeve w/Sanitizer - 0.6...
PP Plastic credit card-sized 0.67 oz. (20 Ml) antibacterial hand sanitizer spray in removable silicone sleeve with pocket for credit cards, transit cards and business cards. Features light citrus scen...
$2.35 - $2.99
GET NOTICED! STAY REMEMBERED!
Helping businesses GET NOTICED and STAY REMEMBERED!
Quality Promotional Products! On Time! Every Time!
If you have any questions, please feel free to contact us. Thank you and enjoy!
Solutionist Printing Galbraith Advertising SWAG Specialties Promotional Products Trade Show Graphics Digital Offset Printing Corporate Giveaways Marketing Consulting Wearables T-Shirts Nimlok Exhibit Display Greensburg Pittsburgh Pennsylvania